We are always looking for ways to improve our local business prospects, and we expect you are as well. One of the most important and effective ways to do this is to make sure your local SEO citations are benefiting your business. What are these citations we speak of? Why are they important? And what do you need to do to make sure they are helping, not hurting, your company? Well, we've got the answers to all that and more below!
What are SEO citations?
SEO citations are references to your business on other websites, often online directories. As Search Engine Journal points out, "Typically, when an SEO refers to citations, they are talking about a group of individual business listings on various sites." These references aren't mentions or links, they are citations because they include your NAP or your business name, address, and phone number.
Brightlocal points out that a full citation includes all of your info, whereas a partial citation is just that—only part of your NAP. While a full citation is always better, almost all citations are beneficial if done correctly.
What is your NAP?
Your NAP is simply your Name, Address, and Phone Number. However, it needs to be consistent throughout your site and in all other citations, internet-wide. This means that the content, spacing, and spelling should be the same everywhere.
Why must it be so consistent? Well, Mailchimp asserts that "Google's local algorithm looks at your NAP information as a signal of relevancy and proof that you're a legitimate local business and actually located at the address listed in your Google My Business profile." And if Google isn't sure you are who you say you are, they aren't going to rank you well.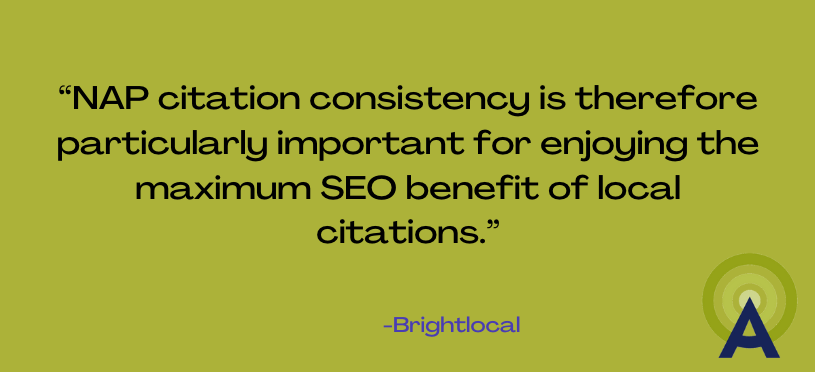 Types of Local Citations
Citations typically fall into these three categories, structured, unstructured, and owned property.
Structured citations are business listings in online directories or databases. These sites specialize in this task on some level. For instance:
Search engines (Google, Bing, Apple)
Primary data aggregators (companies that gather business data and distribute it)
Major directories and social platforms (Facebook, Yelp)
Unstructured citations are mentions of your business citation information on various other websites, blogs, databases, etc. that have picked up your info, though that isn't their main purpose.
Owned property, according to Moz, is your own website—the "most authoritative representation of your business data on the Internet"!
*IMPORTANT: Sometimes it isn't you that has put your citation on a particular site. Aggregators will share your information to other sites. Thus, it is even more important to make sure that the information you are listing is correct so that it isn't shared with exponentially more sites in an incorrect manner.
Why are citations important?
The main reason that citations are important is to help people discover your business! Without citations, you're not going to show up in local search results. If the clients can't find you, they can't hire you or purchase your goods! And listing citations is typically free, so it is a very cost-effective way to bring brand awareness. Major directories, like Yelp and Yellow Pages, are respected and will bring referrals, but they are also valuable because they have page one rankings of their own.

But immediately beyond that, citations help improve your local rankings. They prove to Google that you exist and that you are who you say you are. Once the search engine trusts you, it will list you in local and organic rankings. The more appropriate and relevant sites you are listed on, the more that Google thinks you are prominent and popular and will rank you higher. Search engines want to give the best fitting listings for local queries. It is, in fact, their job! Accurate citations on quality directories establish your prominence and relevance in local listings.
One thing to keep in mind is that citations and links are not the same things. Having citations is vital to ranking in local results. "Links improve rankings for both the organic search results & local business search results," according to Brightlocal. So, don't stop working on quality backlinks, simply add citations to your list of beneficial local SEO tasks.
What do you need to do?
First, decide on the precise content, spacing, and spelling of your NAP information. Don't put an Inc. or a Co. on the end if it isn't going to be on every single citation across the internet. And standardize your address—don't put Drive in one listing, Dr., in another, and Dr in a third. Make it easy on yourself! We recommend writing the address the way you would if submitting it to the IRS.
Next, check your current local business listings across the web with a tool like Moz Local Listing Checker to find and correct any inconsistencies that are already out there. Just to clarify, we are in no way affiliated with Moz, we just really like this tool.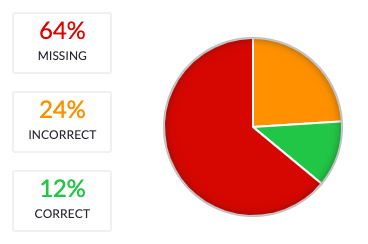 For Local SEO the most important directories are:
Some of the best platforms for local businesses to build citations are:
Also, consider:
Your local Chamber of Commerce
Mailchimp suggests you "Perform a quick Google search for your location and industry and make a note of the first 3 results." Are you listed in those directories?
Then, start listing yourself on directories that are relevant to your business. We're going to repeat that because it is that important: You need to list yourself in directories that are relevant to your business. According to Search Engine Journal, "While some citations have a higher domain authority than others, the category relevancy is more important than the domain authority. That's why getting listed in these industry categories is critical."
Find the best citations for your category:
How to Create Quality Citations
Now that you've found the best directories to list your business let's talk about how to create the citations themselves.
Ensure NAP consistency: Your name, address, and phone number have to be consistent across all citations. This will affect your local SEO and we will remind you of this as often as we can!
Utilize "descriptions." Descriptions allow you to add essential keywords, helping the search engine understand your business better. And if they understand your business, they're more likely to rank it well.
Do the research and select appropriate categories.
Include your logo to promote brand recognition.
Link to your website!
Link to your social media profiles!
List your hours of operation.
Include your business email address and any other way for clients to contact you.
Add photos to improve user experience and conversions! (Optimize alt text and file name if possible)
Tend to your reviews. Engage with each and every one to improve user engagement and SEO. Learn more on how to do that here.
Most importantly, once your citations are listed, keep them up-to-date through any changes in your business! The last thing you want is to send a customer to the wrong location or have them try to reach you on a phone number that's no longer in service. If you're not available, you'll certainly lose their business.
Let Your SEO Citations Benefit You!
Citations are an excellent and easy way to gain new customers and referrals, improve your local rankings and authority, and increase engagement and brand recognition. Get started by establishing a consistent NAP, then investigate the state of your current citations, list your business in appropriate directories and categories, and maintain your citations over time. And if all of that seems like too much work, hire an experienced local SEO agency to do it for you!
We're not just your Denver local SEO specialists. We care deeply about our customers and their success. For more information on how to make your company shine online contact us today!