We are nothing without our clients. Literally, we'd just be spinning our wheels over here if we didn't have you. In the same vein, your company is nothing without your clients. It is vital that you are available to them!
Why Is It Important To Be Available?
We go with the people we can reach, the ones we can talk to, the ones who show up! If a client can't get hold of you, they're going to keep calling people who do what you do until they find someone who answers the phone.
Being available to your clientele inspires loyalty. Whether you're helping customers who are in a bind or just being there whenever they need, each time you respond, each time you're there, they trust you a little bit more. And with loyalty comes referrals!
LinkedIn is right—being available gives you a chance to outshine your competitors! It is that personal touch and simply being there that will make you stand out from competitors who may have a more corporate, hands-off approach.
If you'd like to look at it in dollars and cents, being available improves customer lifetime value (CLV) without spending more on marketing. CLV is based on the principle that it is easier (and cheaper) to keep the customers you have than to attract new ones. And if the customers you have are happy, then they will continue their relationship with your business
How To Make Your Business Available!
Clearly, it is lucrative to be available to your clients. Now, let's go over the steps your business needs to take to actually be there.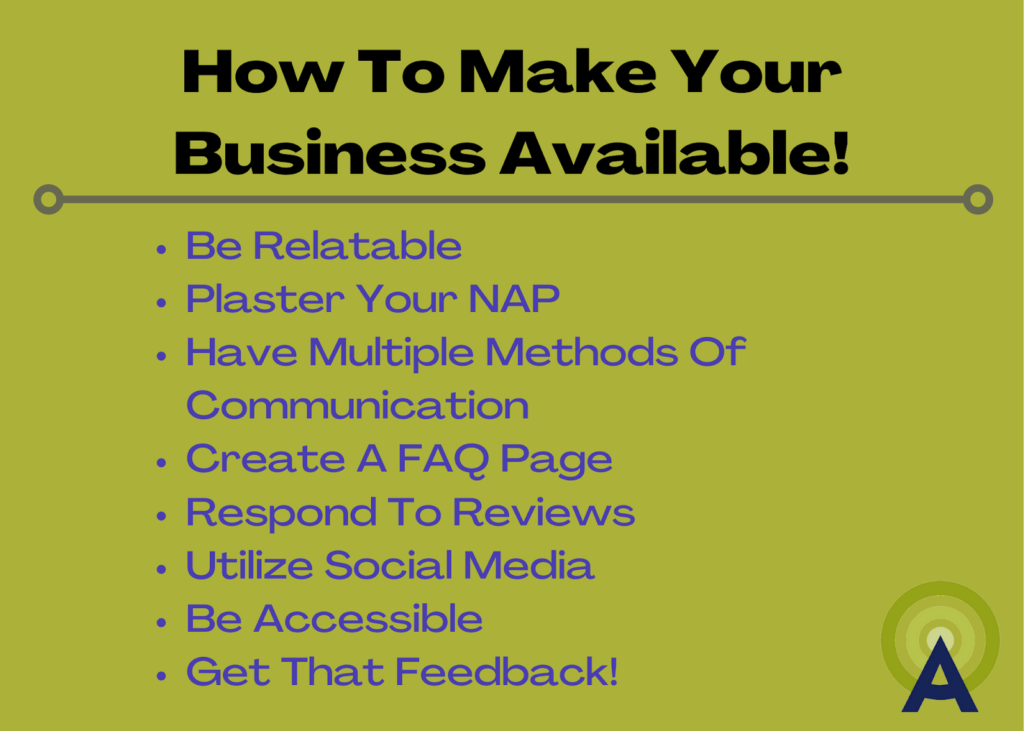 Be A Business That People Can Reach Out To
Does that sound vague? Well, it's not. Be nice. Even when you've had a tough day, take a deep breath and be your best self. In order to be available to your clients, the first thing you need to do is make sure that you are welcoming them. No one is going to call you if you've been rude or cold in the past. Make your clients feel comfortable and they will keep coming back.
An Up-To-Date NAP That's All Over Your Website
Now that people want to reach you, you've got to make it easy for them to do so! That means making sure your NAP (Name, Address, & Phone Number) is updated across the internet. "If someone finds your business through a directory, but the contact details are incorrect, then they may struggle to communicate with you. This could cause them to shift their attention—and their money—to one of your competitors," advises brightlocal.
Once your NAP is consistent, make it easy to find on your site. Put it on every page, in the navigation, and footer of your website, in addition to having a Contact page. Furthermore, make sure that your contact information is in your email signature!
Multiple Channels of Communication
Depending on your business, utilize every mode of communication that you can. Remember that just like you, each client is going to favor a different kind of communication. This will also help with accessibility for those clients with disabilities.
Consider being available by-
Phone
Email
Text
Chat (live/bot)
Video chat
In-person
Create a Help or FAQ Page
For commonly asked questions, create a page on your website. Address all of the queries and concerns that you imagine your clients could have, and add to the page when new problems or solutions come to light. If you have all the answers at the customer's fingertips, without even having to contact your business directly, the battle is already won!
Respond To Every Single Review
Engage with every person who contacts you or writes a review no matter if the comment/review is positive or negative. This type of engagement is vital to the client and to your SEO. In fact, responsiveness in this area builds a business's trustworthiness in the eyes of the consumer. For tips on how to respond, check out this article directly from Google.
Utilize Social Media
Kontentino Blog says it best, "Utilize social media as a customer service medium." Ultimately, social media is a customer service tool. It is HUGE for communication between your business and your clients. Discover all the ways to engage with your customers via social media and stay responsive. If they have a question, comment, or concern, respond immediately.
Learn more about using your social media platforms here.
Be Accessible, Too
In addition to availability, be accessible to those with disabilities. Use alt text on images, add closed captions and transcripts to videos, employ several different ways to communicate directly, accept Telecommunications Relay Service calls (TRS), and make the access point for customer service clear on your website.
If you'd like to know more about how to make your website and business more accessible, go to Accessability.com.
Ask For Feedback
The best way to know if you are available to your clients is to ask them for their feedback! Let them point out exactly where you are lacking. The next step is even more vital, though—use that feedback to enact change. Learn from your clientele, they are the ones you are serving. If you give them the chance, they will tell you what they need. A best practice is to listen!
Are You Available?
Just as we strive to be more available to you, keep striving to be there for your clients. You'll notice a positive change in your customer satisfaction, user experience, and client loyalty. And if you have any suggestions on how we can be more available to you, please contact us!
We're not just your Denver local SEO specialists. We care deeply about our customers and their success. For more information on how to make your company shine online, take a look at our blog; and especially our recent post on video content! Most importantly, if you need us, Acquire Internet Marketing is here for you!