So you had a meeting with your expert SEO specialist and they were blazing through charts, graphs, and lists of keyword phrases, throwing out acronyms you'd never heard before and terms you're not sure are real. Did you A) stop them repeatedly to define and explain each unknown reference? Or B) nod your head and then casually jot down the offending expressions to look up later? Well, you're reading this blog, so we're guessing the answer was B!
Search Engine Optimization (SEO) might not be your job, and it doesn't need to be, but it always helps to have a basic knowledge of something that is critical to the success of your business. Here we've assembled a list of some of the common SEO terms that you'll need to know to survive your next meeting with your SEO team.
Common SEO terms demystified!
Search Engine Optimization
Our absolute favorite definition of Search Engine Optimization comes from Lemonlight: "Search engine optimization is what you do to grow your visibility on search engine results pages." Simple right? There are standard practices and strategies that make sure the content on your site is what the search engine's algorithm recognizes as important, giving you higher rankings in search queries and generating more organic traffic and conversions.
Search Query
The word or string of words that a user enters into the search engine's search box. From the perspective of an SEO specialist, these search queries will become the ideal keywords and keyword phrases.
SERPs- Search Engine Results Pages
The page where results are shown for a search query. Results can include a Map Pack, paid ads, rich snippets, and organic search results. (This is the page you want to be at the top of!)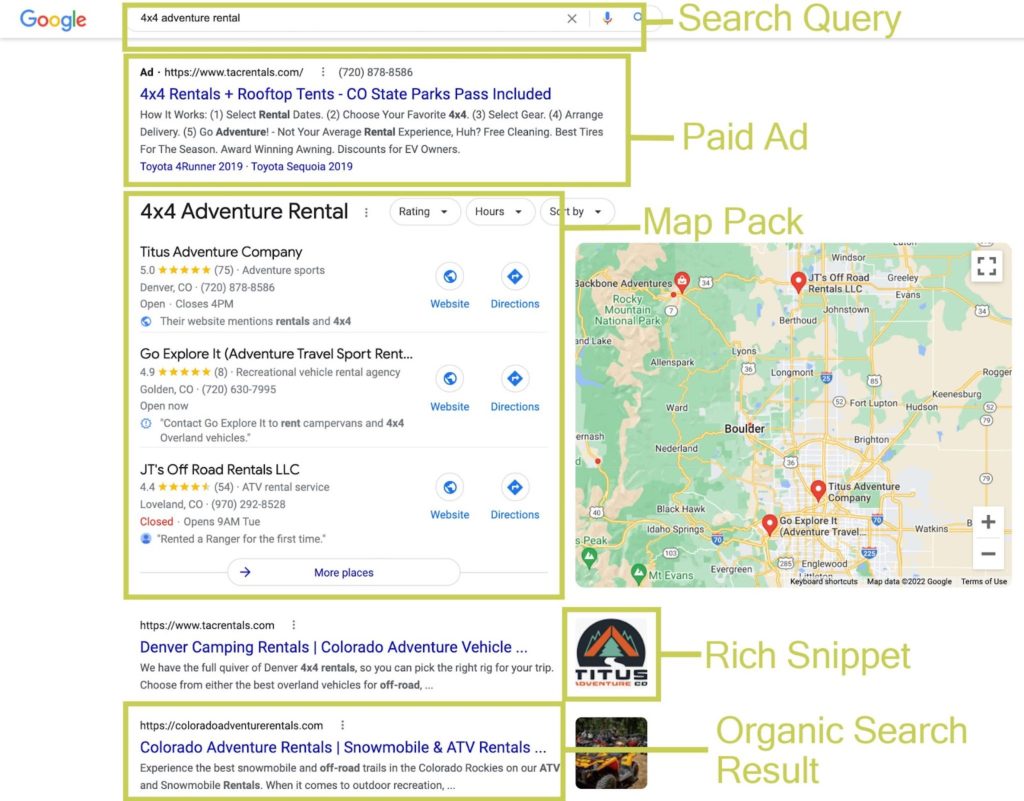 Position
Where your link falls on Google's search engine results page.
Click-Through Rate (CTR)
The percentage of people who see your search engine result and then click it. Calculated by dividing the number of clicks on a link by the number of "impressions" or views of that link, times 100.
Impressions
Directly from the mouth of Google: "An impression means that a user has seen (or potentially seen) a link to your site in Search, Discover, or News." Whenever your URL appears on the "current" search results page for a user's search query, it is counted as an impression. This allows you to know how many people saw a page that mentioned your site or content.
Clicks
How often someone clicks your link from the search engine's results page.
Rich Snippets
Each result on the SERP is called a snippet, and it includes the title, URL, and a description of the page. A "rich" snippet (or rich result) includes extra information. Depending on the type of page it refers to, it could have a picture, review, statistics, price, etc. Rich snippets stand out from the others, thus people are more likely to click on them and your CTR goes up! You can ensure rich snippets appear by adding structured data to your page.
Structured Data
According to Yoast, "Structured data is a way of describing your site to make it easier for search engines to understand. The vocabulary used by the big search engines is called Schema.org, which changes your content into code that they can easily process." Very technical stuff!
Schema
The code (or vocabulary) your site uses to talk to search engines, advising them on what your site is about and what to pay attention to.
Bot
Bots (spiders, web crawlers, etc.) are the minions of search engines. They "crawl" the internet and try to make sense of the pages so they can display them in search results.
Organic Rankings/Organic Search Results
Organic search rankings are rankings that are mainly due to a good SEO structure and relevant, valuable content. And organic search results are the opposite of paid search results, which come from paid ads.
Organic Sessions/Traffic
These result from users finding your site by clicking on an organic search result. These users are called organic traffic and 53% of website traffic comes from organic search results.
Average Session Duration
This conveys the average amount of time a user spends actively engaged with your website. This is a good measurement of whether your site has valuable, engaging content.
Bounce Rate
A calculation of the percentage of visitors who navigate away from a site after viewing only one page. A high bounce rate indicates that users are not finding your content useful or engaging. The average bounce rate lies somewhere between 26 and 70%. 26–40% is excellent, 41–55% is average, and 56–70% is…higher than average. (Thank you, Rocketfuel!)
Conversion Rates
A conversion is when a "user completes a desired action" on your website. That can be when they make a purchase, fill out a contact form, take your quiz, etc. Average conversion rates across industries (and according to WordStream) are 2.35%, whereas the top 25% are 5.31% or higher, and the top 10% are 11.45% and above. Conversion rate is calculated by dividing the total number of conversions by the total number of sessions and multiplying that by 100.
Keyword
We'll defer to this succinct definition from Moz on this one: "Keywords are ideas and topics that define what your content is about…they're the words and phrases that searchers enter into search engines, also called 'search queries.'" These are the words that lie between your content and the users that would derive value from that content. "The keywords you choose to target (meaning, among other things, the ones you choose to include in your content) will determine what kind of traffic you get."
Longtail Keywords
Longtail keywords are more specific combinations of several words. Instead of the vague and generalized "shirts," you might search for "Colorado professional sports jerseys." There will be less competition when it comes to longtail keywords, but there will also be "more clearly defined intent." People who search for "shirts" aren't often looking for "Colorado sports jerseys." But if you sell Colorado sports jerseys and someone searches for them, they'd better find you!
Title Tag
According to Moz, "A title tag is an HTML element that specifies the title of a web page." It is the first line of the search snippet that you will see when you make a search query, standing out in blue above the meta description. This is the link you will click to get to the web page. It is useful for SEO, but it must also be accurate and attractive to the user. It is best practice to keep the title tag under 70 characters. Read more on title tag creation here.

Meta Description
The meta description is another HTML tag. This tag is longer and describes in more detail what your page is about. A best practice is to keep it between 140 and 160 characters. Google won't necessarily use the meta description that you set, but if you utilize the search query keywords within your description, it is more likely to appear on the SERP and catch the eye of the user. Read more on meta description creation here.
Keyword Density
Keyword density refers to the number of times a keyword or phrase appears on a webpage or in web content. It can be calculated by dividing the number of keywords on a page by the total number of words on that same page. You want to avoid "keyword stuffing" or the overloading of keywords within a webpage. This seems spammy to the user and to the bots crawling your page. Try to keep your keyword density at 1–2%.
Local SEO
Local SEO is a tool used to optimize your site, making it prominent in local and localized organic search results. Generally, local SEO works the same as traditional SEO, however, there is a separate algorithm and set of rules involved. These rules are based on three pillars: the proximity of your business to the searcher's location, its prominence in relation to nearby businesses, and its relevance to the search query.
NAP (Name, Address, Phone Number)
NAP is an acronym that stands for Name, Address, and Phone Number. It is vital to the health of your local SEO that your NAP is consistent across all sites and directories. This means having the exact same spelling and spacing on all platforms. You see, this consistency legitimizes your business for the search engines. "Inconsistent info is tough for the bots to understand and for user experience…"
Map Pack
The Map Pack (Local Pack, 3 Pack, Snack Pack, Local ABC pack, etc.) is the three local listings, next to a map of their locations, that show up at the top of the SERP, with the organic search results listed below it. We know that "46% of all queries have local intent," and 76% of consumers who search for something local on their phone will visit the store that day. So, getting in the Map Pack for people searching in your area is valuable and lucrative.

Authority
Simply put, authority refers to the likelihood that a domain or page will rank high in the SERP. This is not an official Google metric, but rather a score developed by Moz. However, it can have a lot to do with improving your rankings. Some of the more important factors calculated to determine authority are quality backlinks, domain/page age, the quality of content, user experience, "search-engine friendliness," and "social media signals."
Domain authority (DA) – Domain authority assesses the relevance of your site in its field.
Page authority (PA) – Page authority evaluates the authority of a single web page.
Landing Page
A webpage that a customer/client will "land" on that has one, specific action in mind—to compel conversions. It will include a call-to-action and an offering in return for the customer's contact information. They will receive a newsletter, an ebook, a free analysis, etc., and your company will receive a new lead. However, to get people to this landing page, you'll not only want to get them the link via social media, newsletters, or ads, you'll want to have the page rank in the SERPs. So, you'll need to use targeted keywords and compelling, contextual content on the page to improve its rankings.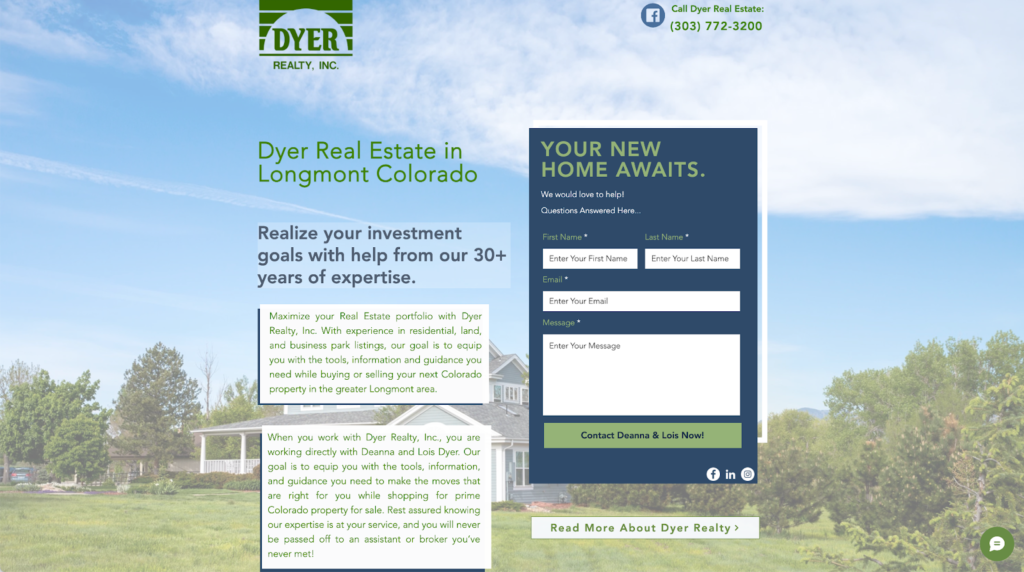 XML Sitemap
Backlinko says it best— "A sitemap is a blueprint of your website that helps search engines find, crawl and index all of your website's content. Sitemaps also tell search engines which pages on your site are most important." Without a sitemap, those little bots have a tougher time figuring out your site. Why wouldn't you make it easy for them?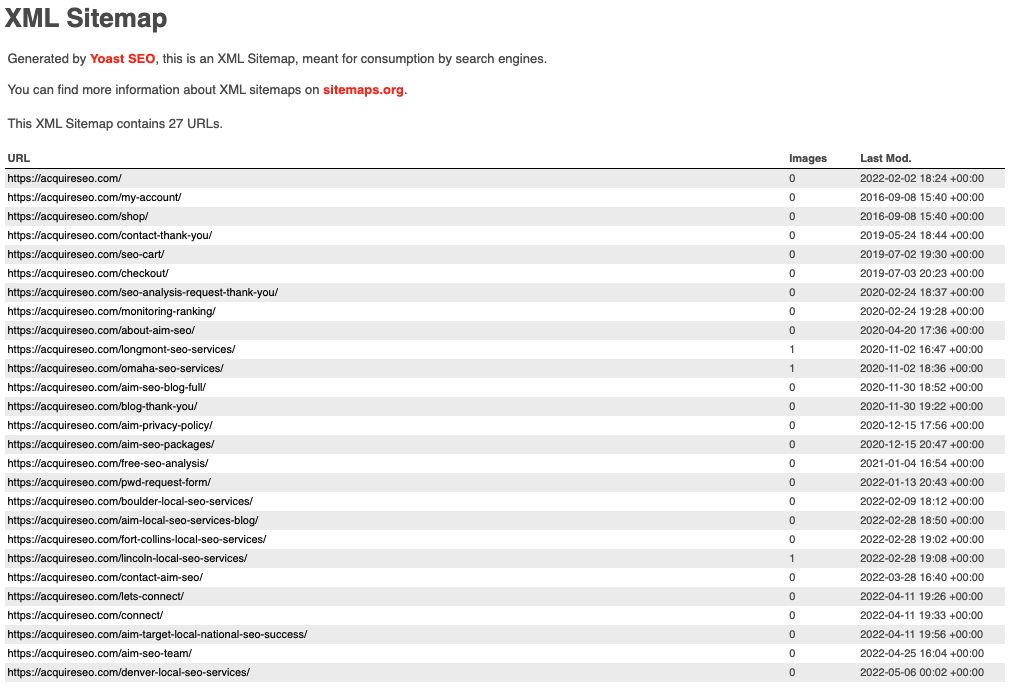 Backlinks (Inbound links, Incoming links):
Backlinks are links from another website/page to a page on your website. Google considers these in your search engine results rankings. Each backlink proves that your website/page is useful and popular and the more you have from reputable and relevant sites, the higher your domain authority. "Pages with a high number of backlinks tend to have high organic search engine rankings."
Internal Links
Internal links are links from one page on your website to another. This linking structure is how your site is indexed. The more links, the more the Google bots come across your pages. In addition, if your internal links are surrounded by "meaningful context," then your site is ranked higher. It is important to make sure that your internal linking structure is purposeful and encompassing.
Orphaned Content
Content that doesn't have any internal links from other pages/posts on the same website, making it hard for Google and visitors to the site to find it.
Alt Text (Alt Tags, Alt Descriptions)
Alt text is the written content that takes the place of an image if that image fails to load or if a screen-reading tool is being used.
How else can we help?
We're not going to lie, we don't just like helping our clients understand what we do, we also just like talking about it! If there's a term you'd like added to this list, please leave it in the comments below. Or contact us at Acquire Internet Marketing with any questions. There's no judgment in not knowing the common phrases of a specialty that isn't yours! We want to make you feel comfortable and knowledgeable when it comes to your SEO!
Want to learn more about SEO and how to help your business soar? Take a look at some of our other blogs, including Video Content for SEO and our How-to SEO Tutorial series: Basics, Analytics & Tracking Set-up, and Title & Description Template Creation.
Start Driving Traffic To Your Business Today!
If you need some help with your SEO, get your Free SEO analysis today and start optimizing your website to succeed! As your resident experts, we offer national and local SEO solutions. We strive to keep our clients informed on all things of value in regard to our SEO services!