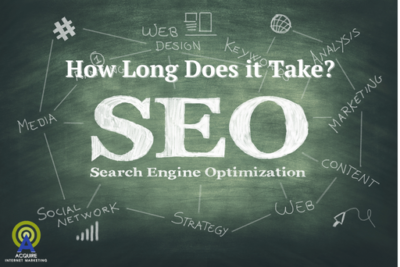 So How Long Does It Take?
SEO can be slow, but the potential payoff is worth it. So how long does it take for SEO to work? It depends on several factors, including the age of your website, the competition for your target keywords, and the quality of your content.
If you have a brand-new website, it could take longer for SEO to work than for an established website. This is because it takes time for search engines to index and rank new websites. The competition for your target keywords also plays a role in how long it takes for SEO to work. If you're targeting highly competitive keywords, it will take longer to see results than if you're targeting less competitive keywords.
Keyword Research:
Keyword research is an essential part of any SEO strategy. This can take time and patience to get it right. It generally begins with brainstorming and coming up with a list of potential keywords. Next, you must analyze the competition for your chosen keywords and the search volume each term generates. This might involve manually searching related phrases, checking out competitor websites to see what terms they are using, and using online tools to refine the list further. Here is a basic tool you can use to find keyword volumes.
Finally, you must consider how each keyword fits your marketing strategy. Depending on the size and complexity of your website, this process can take anywhere from several hours to several weeks. Thorough keyword research ensures that your website content reaches its intended audience and achieves its desired goals.
Generally speaking, smaller companies should target low to medium-competition keywords (less than 250,000) with medium-to-high search volumes (over 250,000). Larger companies with greater cash flow can target more competitive keywords that are broader.
Are you confused yet? Visit our blog on 'Keyword Selection is Key' to break down this complex task of choosing the right keywords.
Content:
The quality of your content is also essential. Search engines prefer websites that offer high-quality, relevant content. If your website's content is thin or poorly written, it will take longer for SEO to work. On the other hand, if your content is keyword-rich and informative, you'll see results more quickly.
How Well Site Is Optimized:
Is your current website highly optimized for SEO? Have all the pages been carefully crafted with search engine-friendly content, including keyword-rich headings, metadata, and alt tags? You should use an analytics tool like SemRush or Moz to monitor your website's performance in search engine rankings. Additionally, employ various tactics to ensure that my pages are indexed by Google, including submitting sitemaps and regularly updating content. As a result, your website should experience a steady climb in organic traffic from major search engines such as Google, Bing, and Yahoo!
Time Bound:
It can take a while for SEO to work. The first step is understanding how SEO works and making sure your website is set up for success. Once you have an action plan, it can take weeks or months to see results. The key is to be patient and consistent with your SEO efforts. Over time, you will see your site rise in the search engine rankings and get more traffic. We recommend using a tool such as Keyword.com to enter and track your keyword rankings progress.
SEO is not a quick fix; it's a long-term strategy. But if you're patient and persistent, you will eventually see results.
Feel overwhelmed by the complexity of optimizing your website for SEO? Consider hiring an SEO expert such as Acquire Internet Marketing to do the heaving lifting for you. Hiring a company with knowledge and expertise in the industry will save you time, money, and fewer headaches trying to rank on the first page of Google.
If you have any questions we did not answer in this article, please contact us for clarification.