Is monthly SEO really needed? This is a question we hear often. The short answer is yes. Rankings drop when SEO stops.
Why Do You Need Monthly SEO?
Think of SEO as exercise. You can't expect to run a 5K one time and automatically look like a fitness model. Instead, dedicate time each week to train for your goals and put in some consistent work. It's the same concept for SEO. You can't optimize your site once and then forget about it. SEO takes monthly maintenance or your rankings will drop.
What Are Monthly SEO Responsibilities?
Broken links and errors occur periodically—it's part of having a website. You'll want to check your site for issues each month. Ensure your site is working properly and there aren't any errors (broken links, image issues, toxic links, page speed, etc.). Then look at your rankings and evaluate keywords. You'll also want to look at traffic and conversions to determine if you need to tweak anything. Remember to track what you're changing as well so you know where to make adjustments later. If you've added new content in the last month, you'll want to make sure that it's optimized with your target keywords (tags, links, images).
Watch Your Competition
Another aspect of monthly SEO is your competition. Everyone wants a number 1 Google spot. If your competition is better at SEO than you are, then you'll need to spend time monthly tweaking SEO so you can stay in the race with your competitors. Remember, it takes time and dedication to win the race. You want to reach and maintain your rankings. You'll want to keep your competitive edge and not let your rankings fall behind your competition.
Add a Blog
Don't just add blogs for the sake of adding a blog. Instead, tie your blog posts to targeted keywords to improve rankings. Content helps zero in on targeted keywords and provides valuable content for your site visitors. Plus, folks will stay on your site longer if you have useful blogs to read and blogs demonstrate your expertise. Aim to post new blogs consistently, optimize your content and add links to other pages on your site.
SEO Stops Ranking Drops
We've seen rankings plummet once clients stop monthly SEO efforts. Here's an example client who had excellent rankings during SEO services. Rankings then drastically dropped when SEO stopped.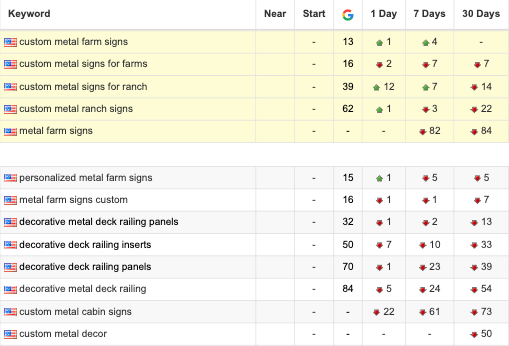 Monthly SEO Benefits
Here are some additional reasons on the importance of regular SEO:
Increased Traffic—you continue to add relevant, keyword-rich content to your site every month. You want to make sure that content is optimized, so that more traffic reaches your amazing content. Monthly SEO also monitors rankings, looks for any website issues, evaluates keywords and adjusts the SEO strategy as needed.
Internal Linking—As you continue to add content to your site, you want to add internal links to site pages. This is one type of simple monthly SEO that can help rankings. As you build more links, your rankings and traffic should increase as well.
Want SEO Help?
You can either commit to looking at SEO monthly if you're capable and have extra time, or pay a professional to monitor and adjust as needed. If you're stressed about finding time for SEO or would rather leave it to the professionals, we can help you out! Contact us today!
We'd be happy to give you a head start by providing a free SEO analysis. And if you have any questions, we'd love to help!